Email List Management
Email List Management
We all have a list of our networks. Be it mobile contacts. Be a subscriber and keep 1000's of email contacts in one excel file. Managing email lists takes some effort and time to keep your contact database organized.
So how can you organize your email database? Which saves you time and helps you to send specific segment emails.
Proper email list management is a way to get rid of messy Excel files, tons of lists, groups and optimize your efforts to boost your email marketing performance.
With a well managed email database, it will be easy for you to send personalized campaigns and create high converting automated email campaigns.
What is List Management?
Email list management and segmentation is the practice of managing your contacts. Who are they to be organized on the basis of engagement with communication?
Blog client
Customers
Test user
Lead magnet downloader
You can also manage your contacts based on their behavior and interests. This is the only way by which I will be able to send content according to their interest.
Email List Management:-
Email databases are one of the most valuable elements of your business. Keeping it organized will increase your chances of sending more personal emails. Emails that are based on information and segments from your contacts.
Take a look at these best practices for email list management:
1. Segmentation:
Effective email marketing is all about proper segmentation that every marketer knows. The better you segment your audience. The higher your ROI. Segmentation is the practice of applying filters to make it easier to find and locate those groups of customers. Which has some things in common?
Contact filtering can be based on:
Age
Unique eBook Downloader
paying customers
Subscription date
Connection status
Gender
Geo-location
Adding Contacts (tags added automatically)
And any other information that your contacts have shared with you.
Let's say you have an email database that includes over a hundred CEOs who you are interested in sending emails to for your B2B email campaigns.
You do not need to create a separate email list for each segment. With email list management software, you can create a contact filter. With which you can target contacts based on them.
Not only can you easily find people in your database, but you can also save them and reuse the same filters later. Filters come in handy later if you only want to target the CEOs you've segmented.
You don't need to send a single email to your entire list. You can send relevant offers based on the life-cycle stage of the contacts, interest, geo-location, etc. Its one thing to segment contacts by their status, imagine what else you can use this for your email marketing.
Here's a case in which we create a filter based on it:
Position (CEO)
Active Status (Active)
Email address (gmail.com not included)
2. Use Contacts Tags:
You can be more precise about your email content by applying tags to contacts. Contact tags are a label. That you associate with an email contact and it represents a certain detail. This may happen:
Purchased product
Downloaded content
Geo-location
Events/webinars attended
clicked in an email
Tagging helps you:
Avoid Spamming Your Customers
Know what kind of content they are interested in,
Divide them according to their behavior,
Identify their life-cycle phase.
3. A/B Testing:
A/B test emails allow you to test your email subject lines on different segments. So that we can decide after that. And which one resonates the most with your segment. A/B tests your subject lines for you to understand what works and what doesn't.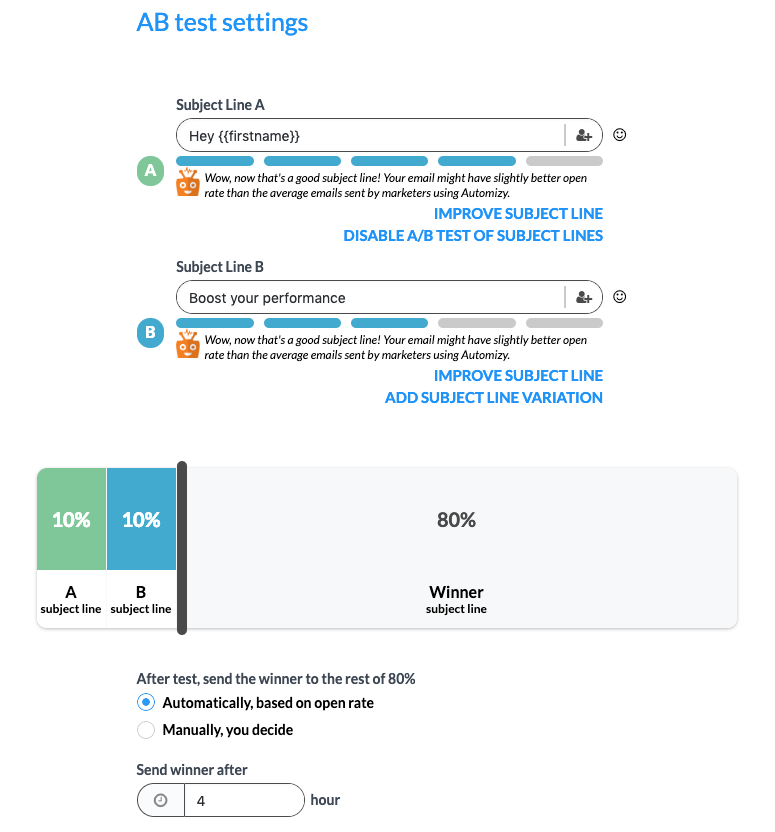 An A/B test measures engagement for different subject lines.
4. Filtering Customer by Engagement:
You can also manage your email list based on your customer engagement and subscribers. For example, you can filter your email database. So that you can take a look at your email openers, link clickers. And understand who the most loyal customers are.
You can also filter the list of contacts who:
Received or did not receive a specific email.
Opened or not opened a specific email.
Clicked or not clicked on a link in a specific email.
Engagement contact filtering helps in sending targeted email campaigns based on your customer's interactions with past campaigns.
5. Send a Re-engagement Email to Reactivate Inactive Users:
One way to reactivate your inactive users is to create a re-engagement email campaign. It's hard to say goodbye, yes we know. Re-engagement email campaigns are your second chance to win back customers.
To explain what's happening in the workflow:
The first email you send to your contacts. And the people who open your email are your active contacts. In this case, you apply the engaged contact tag to your email openers.
This is for contacts that haven't opened their first email if you send another email to check. Are they still interested in your offer?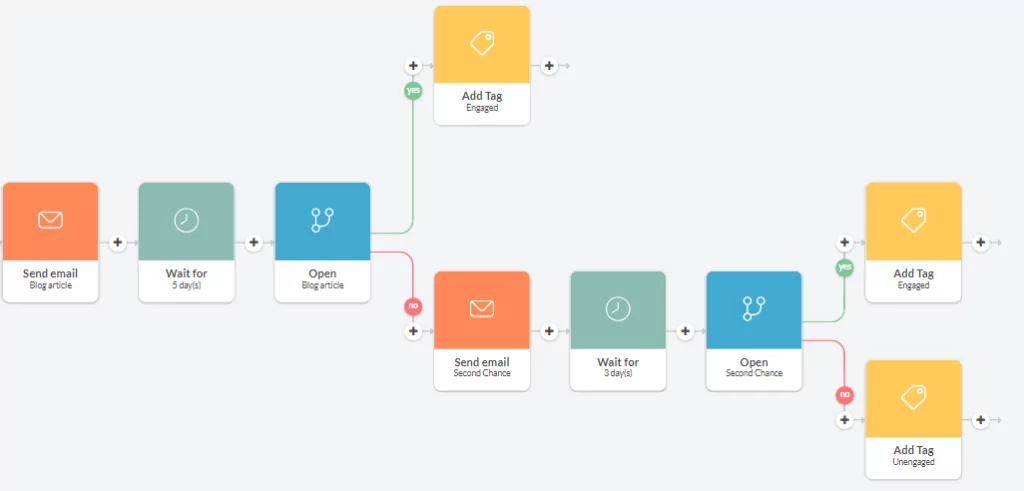 You then apply a condition to add an "engaged" tag to your email openers, and a separate "unengaged" tag for contacts that don't open an email with re-engagement email automation. Also, be sure to send emails to non-openers, using separate subject lines.
When you resend an email, you'll never forget to type a new subject line. The subject line is not easy to write, it should never be based on gut feeling and best practices. You may feel positive about your own subject line, your contacts might not.
6. Remove Inactive Contacts from your List:
Inactive contacts are contacts that have not shown any signs of interest in your re-engagement email campaign. You add an action "Remove from list" at the end of your re-engagement campaign to remove inactive contacts from your email list.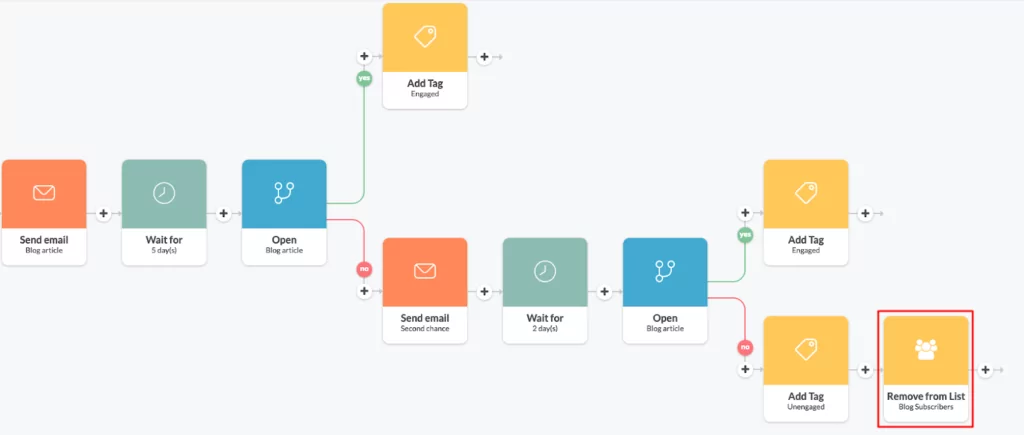 This way, once you show no interest in your email, all inactive contacts will be automatically removed from your contact list.
Note:
Keeping inactive contacts on your email list affects your email marketing performance. Your email exclusively opens rates. Email open rate is the percentage of the total number of customers who open an email campaign.
If you have a significant number of inactive email subscribers who will never open email, your email opening rate will remain low.
7. Opt-in Email Lists:
How to Manage Email Subscriptions?
You can create opt-in email lists so that you have different lists depending on the situation. From which your website visitor has subscribed. You can create your HTML form on drag and drop editor and add it to your email list.
When you're satisfied with it, copy the generated HTML and paste it at the desired location on your web page and you're done.
For more related information, than you can check it out migomail and vmayo.