August 30, 2021
Posted by:

vmayo

Categories:

Marketing, Transactional Email
Enhance a merchant Relationship with Email marketing
The purpose of email messages is to enhance a merchant's relationship with current or past customers, to encourage customer loyalty and repeat business, to acquire new customers or to persuade current customers to buy something immediately, and to send advertisements in which It is shared with third parties.
If you are looking for a transactional SMTP server provider, you may have an application that sends both marketing or transactional messages and is trying to find a host to relay these messages in bulk. Or maybe you're sending both transactional and marketing messages and really want to find a provider to address your delivery.
If you're no longer positive what type of messages you're sending but recognize the need to just send bulk mail, check it out. Knowing what you're sending and finding the right plan and provider for your messaging style will improve both your email delivery and your relationship with the SMTP carrier.
Use Mailcot Custom E-mail Marketing and Get the Following Feature:
1. Build automated email campaigns with AEP's workflows
Fully automated campaigns:-

Create fully automated campaigns with the world's most intuitive workflow builder. Apply tags, trigger campaigns, add delays, branch with if-then logic, and do about 30 other things all powered by AEP's automation engine and displayed as an easy-to-follow flowchart.

Identify who you're sending to:-

Personalization is key when it comes to email, and if your CRM is set up effectively, you will be able to send automated emails to targeted areas of your database. It all depends on the integrity of the data you collect from your contacts and their dealings with your site and your email.

Determine your goal:-

Your email marketing is only as good as your strategy, so make sure you know why you're contacting these individuals. Do you want them to buy something?

Set enrollment criteria:-

Enrollment criteria refer to the qualities that must be met for a contact to be entered into the workflow. You must be well acquainted with the types of data present in your CRM (properties or fields) and be able to rely on the accuracy of that data.

Identify the actions that must be taken:-

If you email these contacts manually, what will you do? Automation actions include the following and more:

Email Sends
Time Delays
If/then Branching
CRM Updates

Create the necessary assets:-

You know how many emails you want to send. And the general message they want to convey. Before that they will start creating their workflow. And all the assets must be created and loaded in the software.

Implement the workflow logic and attach email assets:-

Automation software works in a highly literal way, so think of your workflow as a blueprint that outlines each action in sequence, no matter how small those tasks.
2. Segment your contacts with AEP's easy-to-use tags
You can apply your tags to specific email groups such as customers and non-customers. And then send one-off email broadcasts or the entire campaign in individual email segments as you see fit.
3. Collect leads in minutes with the email automation platform's built-in widget
Grow your list anywhere on your site with AEP's elegant slide-up lead capture widget. All it takes is a simple snippet of code to pop up wherever you want.
4. Advanced list maintenance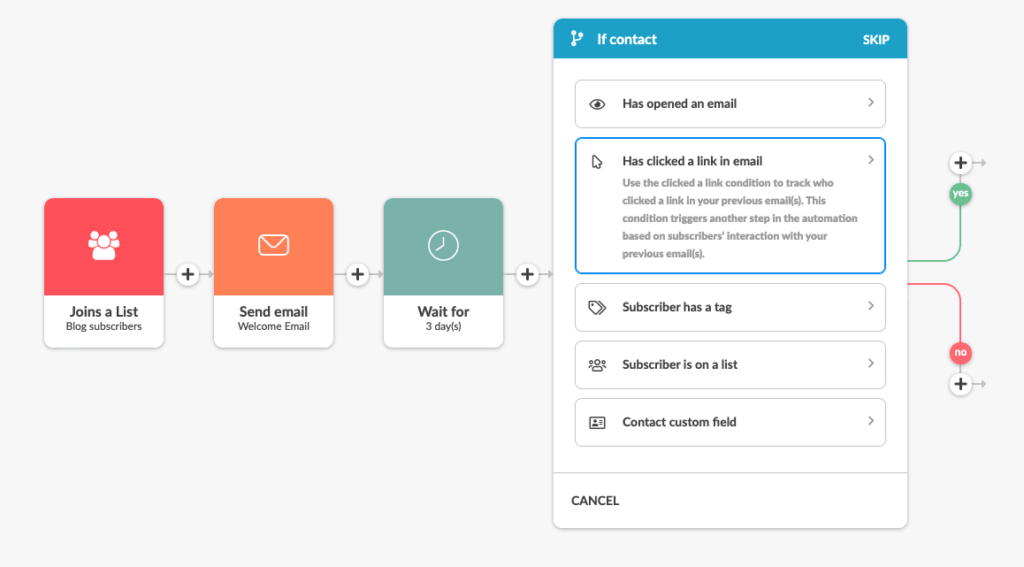 Adding and deleting email subscribers is a basic feature that every ESP provides. Don't settle for it. Expect your ESP to automatically remove hard bounces i.e. invalid email addresses and soft bounces after a few failures.
Opt-outs, membership changes, and so on should all be automated as well. And look for the ability to set up inventory management rules that help keep everything clean and up to date.
5. CAN-SPAM compliance built-in
The Un-Solicited Pornography and Marketing (Can-Spam) Act 2003, U.S., for sending commercial emails. Control the attacks. There is a law defining the standard and empowering the Federal Trade Commission to enforce those standards.
How membership is handled. There are requirements of the Act for this. And it also includes content and behavioral requirements and guidelines.
6. Easy integration
Email marketing works best. When it is closely integrated with other systems and services. ESPs must offer an easy-to-use API or platform extension that allows email capabilities to be added to at least one ecommerce platform. But there could be opportunities to integrate email capabilities and workflows with mobile apps, social apps, or loyalty programs, to name a few possibilities.
Some examples of beneficial ESP integrations might include a connector for Google Analytics to track email clicks and conversions; Integration with Strikeiron's cloud-based email verification; Or a connection to 4-Tel's product recommendation tool to send a personalized message.
7. Dedicated IP address
A dedicated Internet Protocol address is one that only your business uses to send messages. Having your own IP address can improve delivery. This feature is really meant for organizations sending a significant number of messages.
When considering an ESP, look for a potential your business is not ready for. But as the business grows. A dedicated IP can improve the delivery.
8. Deliverability help
Email marketing won't work if messages aren't getting through, and while email marketers may not have a lot of experience with delivery, ESPs should.
Mailcot email marketing is popular because it's relatively easy, fast to get started, and inexpensive. It can also make a lot of profit. The premise behind email marketing is that you create a list of customers, clients, prospects and customers who want to hear from you.
Mailcot Providing spam-free Email Marketing. Your all emails will directly deliver to client's inbox. There is your own subscriber list. So, there are very fewer chances to go mails in Spam.