September 28, 2021
Posted by:

Tanu Shyara

Categories:

Email, email address, Email Marketing
Create a Custom Email Address
A custom email address is one that uses your domain name. such as name@yourdomain.com. Not only does this create a professional appearance but it also builds a consistent brand and trust. It's also easy to build, all you need to do is get a domain and an email host. And associate your custom email address with the email platform of your choice (such as Gmail, Outlook or Apple Mail).
An easy way to create a custom email address is to get your domain and email hosting directly from the same platform as Google Workspace. That way you won't have to buy a separate domain.
And it has to be connected manually. Eliminates the headache of configuring DNS servers and comes with the benefits of top-notch email security, productivity and collaboration tools.
Here's how to set up a custom email address in three steps: 
1. Get a Domain Name
To create a custom email address, you'll first need a custom domain name (for example, yourbusiness.com). Buying a domain name is simple and can be done in just a few steps.
However, you can get domains from different sources and which method is right for you depends on which email hosting service you plan to use. And how do you use your domain name and are you planning to build a website to use?
Here are the best ways to get a domain name, depending on the way you plan to use it: 
 Business Email-Only:

If you're just looking for a custom business email address and you need a domain name, you can get it through one of the best domain name registrars like Google Domains for about $12 per year. Alternatively, buy your domain directly from providers like Google Workspace or Microsoft 365 to reap the benefits of having your domain automatically connect to your email host.

Business Email and a WordPress Website:

If you too are planning to build a website, your best option may be to get a free domain directly through a web hosting provider such as Nexahost. For as little as $2.95 per month, you get web hosting, a free domain, and up to five free custom email addresses. Additionally, it eliminates the need to manually connect your domain to a web host, making it a fast and easy option for small teams.

 Business Email and all-in-one website Builder:

If you're planning on building a professional website yourself without any web design experience, choose one of the best website builders for beginners, such as Nexahost, which includes a free domain.
2. Connect to Your Email Provider
How you connect your domain to your email host depends on where you have registered your domain. If you've registered a domain name through an all-in-one domain and email hosting service like Google Workspace, you'll just follow the rest of the prompts and you're done.
If you have registered your domain through web hosting services, site builders and other third party services, you may need to take additional steps.
For example, if you've got your domain as part of your web hosting plan, you'll need to navigate your web hosting provider's instructions. How to set up your new business email address. For most, you'll see an option labeled "Email" from your account dashboard. Follow the prompts to set up your custom email address.
3. Connect to Your Favorite Third-Party Email Host:
If you got the domain name through a web hosting provider, you can link your email to a third party like Gmail or Apple Mail (and yes, your email will be free). The exact process for doing this varies with each email platform, so check out your desired email address from the list below for a step-by-step guide on how to connect your free business email to one of the major email platforms.
For example, here's how to connect to Gmail: 
To get started, you'll need to log into your Gmail account first. If you don't already have one, you can quickly create a free Gmail account. After logging in to your new and existing account, click on the gear in the top right corner. And click on Settings.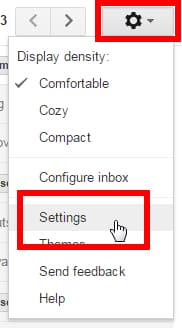 Navigate to the "Accounts and Imports" tab at the top. Then click "Add a mail account".

This will open a new window where you can enter the email address you just created; We are using Nexahost in this example. Enter your full business email and Nexahost password in the window. And you don't need to add pop server information. Once done, click on Add Account.
Be sure to enter your full business email address in the Username field, including your domain (contact@yourbusiness.com).
You have now connected your Nexahost email address to Gmail; This means that all emails sent to your Nexahost address will arrive in your Gmail folder. However, you will also need to update Gmail so that you can send email from this address as well.
On the following screen, Nexahost will ask if you want to set it up. Select "Yes" and click "Next".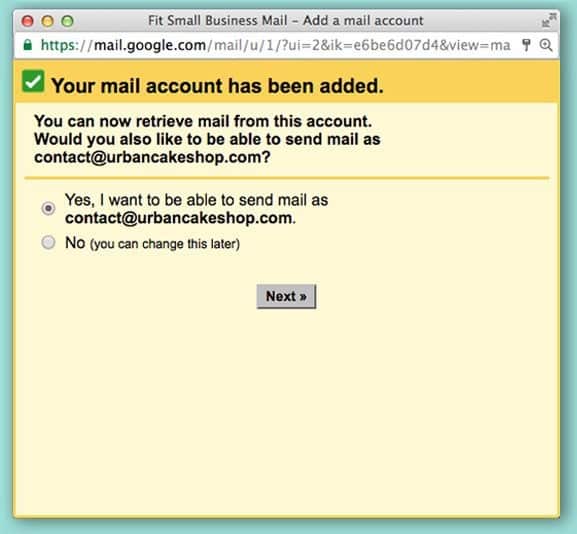 The next screen prompts you to verify your email address. You need to verify this to be sure. You own your domain and the email address associated with it. To complete the verification, re-enter your full email address and Gmail password. Gmail will send you the verification code to the Nexahost email address.
Select "Email Manager" and click "View Inbox". You should see an email from Google with your verification code. Copy this code and enter it in the appropriate field in Gmail. Click "Verify". This will complete your outgoing mail setup.
Once you're connected to your account, you'll be able to navigate between your professional and personal email addresses within Gmail. Simply choose which "From" address you want to use when composing your email.

It sometimes takes a few minutes for Gmail to fully connect to your custom email address. After following the setup instructions, wait five minutes and then send a message to your new email address. You should see this in your Gmail account and have the ability to reply using your new address.
For more related information, than you can check out vmayo, migomail and fleely.