Mailing List:
A mailing list is just a list of those addresses. To which such information is being sent. If you were a magazine publisher, you would have a list of mailing addresses to all the magazine's subscribers.  In the case of email mailing lists, we use a list of email addresses of people interested in listening to and discussing a given topic.
We have two types of email mailing lists:-
Announcement Lists
Discussion Lists
Announcement List:-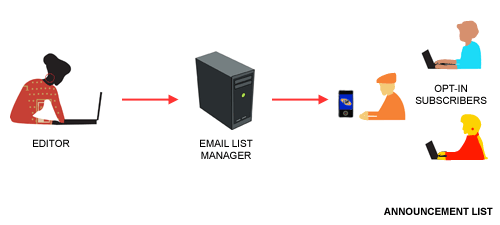 It is used to send group announcement to individual and group people. Similarly, a magazine publisher's mailing list is used to send magazines. For example, a band uses mailing lists to let their fans know about their upcoming concerts.
Discussion List:-
It is used to allow a group of people to discuss the topic between them. Everyone on the list can send mail and distribute it to everyone in the group. This discussion is also ongoing. Therefore, only selected posts are sent in the entire group. Or allow only certain people to be sent to the group.
Formula to Grow Email List:-
In analyzing the websites and techniques of some good email list builders, a certain thread emerged. In analyzing the websites and techniques of some of the best email list builders, a certain thread emerged. If we can  break down the process of building a large email list into the most basic parts. And you can see it like this:-

Email List Growth Strategies:-
Multiple CTAs:-
List builders design your web, blog and call to action in a viable way. You can't avoid the call to sign up. A popover can be a signup, one at the top of a blog post and another at the bottom. Simply put, the design assures that people will see the site differently and that you will get signed up from the best place everywhere. So that the signup form is visible to the potential customer.
Give and Take:-
Attaching something valuable to your email signup form is a sure way to create interest in the minds of readers. Basically, give me something free for the cost of an email address. Which we can all spare is much more than the free price for the site that gets it. For example, you can attach e-books, cheat sheets, email series, videos, personal blog content, and early access to new features.
Handy opt-in Link:-
People can sign up to an email list in places other than the email capture form. You can get the link. And it can be shared in a large number of different places such as email signatures, social media messages and guest blog bios. A dedicated landing page is possible depending on the software.
Reveal your social strength:-
Would you be more suited to join an email list? If you know that 80,000 people have already signed up, social proof-of-concept says that's why you see many sites advertising on your signups, depending on the size of your list.
Create Remarkable Email Content:-
If you want people to stay subscribed, forward your email to friends, family, and coworkers who aren't already on your email list. Your content must be amazing.
How Do the Best Sites Get Signups?
Now that you have seen, there are many ways to grow an email list. So I'd love to show you how some of the top sites implement these ideas. Here are my favorite sources for email archiving:-
Here's a trick to get more email signatures with this link. Interact consistently with people who have shared your content.
As part of this conversation, you'll drop an offer to sign up for his email list. For this you can also send direct link.
Include a social sharing button in your marketing email to your existing email customer and a button by adding a friend. And encourage you to share and forward your emails.
At the bottom of your email, click Subscribe. Include the CTA as a simple text based link. So that the recipients of the forward email can also easily opt-in.
Conclusion:-
We have created an article for you, you can read it from here if you want, this content is written in a simple and easy way. And if you want, you can also take our services.